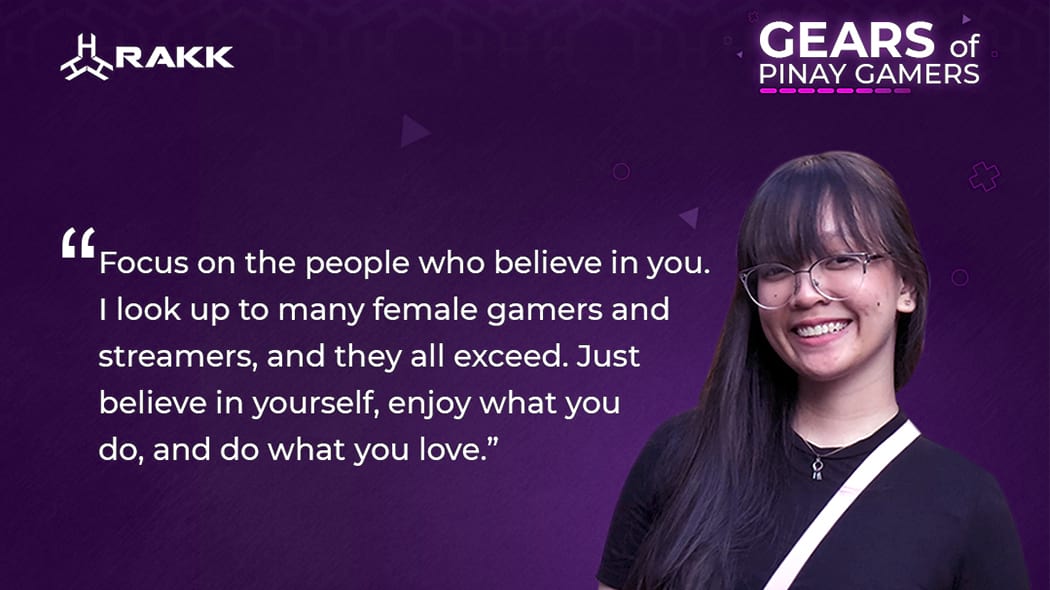 Salades – Her Journey As Pinay Gamer and Live Streamer
To be great with your passion is the most important thing – especially in games. Just like Salades, who plays games and does live streaming, she shared to RAKK Gears an inspiring story of how she started and how she continued pursuing her passion in gaming.
"Focus on the people who believe in you. I look up to many female gamers and streamers, and they all exceed. Just believe in yourself, enjoy what you do, and do what you love," Salades said.
Start of her gaming journey
Salades started to love PC games when she was a kid. She found her interest in gaming while watching her brothers playing DOTA 2.
When she was in high school, she didn't have her own PC. Her passion for gaming actually ignited in computer shops through the game GTA. That's the time she discovered her interest and skills are more inclined towards First-Person Shooter (FPS) games such as Call of Duty (COD) and Valorant among others.
She joined teams to improve her skills. She practiced every day to enhance her accuracy, readiness, and strategy in games. She finally found her zone and strong suit in COD. In the said game, she plays various roles such as slayer, anchor, and objective.
In August 2020, Salades confidently showcased her skills and started her own Facebook page to do live streaming. Currently, she's playing for at least three hours after work from Mondays to Saturdays.
Salades shared, "Although I was not that great, I just wanted to show to the people my capabilities. I was also inspired to create a community where I can share my knowledge and make them happy."
Problems arising
However, it is not always a sunny day for her. Some problems affected her big time.
One of the struggles she faced was the decrease of her live stream viewers. There are nights that only five viewers are watching her. But she remained strong and continued to strive harder than she did before.
Salades said, "this is the part when I almost quit doing a live stream. But I reminded myself that I was doing it because I wanted to do it. I just focused on the people who want to stay with me."
But the most pressing problem she faced was discrimination. There is a stereotype that PC games are only for men, and she felt discriminated for being a woman. Some co-players and viewers called her weak for being a woman whenever she made mistakes. But she proved them all wrong.
"There were times that I know I was not great enough, and some people would say that it is because I'm a woman. But I always oppose the idea that women are weak. Sometimes, it makes me sad, but I'll always stand up for every Pinay gamer like me," she stated.
Venture to vlogging
Salades aspires to reach more people, not just on Facebook but also on a different platform, where she hopes to show her true self and inspire other viewers. This year, she ventures to YouTube and starts creating gaming content and gadget reviews.
One of her first vlogs is her review of RAKK Talan Air Wireless Gaming Mouse. "It is super sulit. I'm very happy with the specs and inclusions of the RAKK Talan Air, so I chose to buy it," she said
The aspiring vlogger was so excited with the wireless mouse, that's why she made an unboxing video. In this 5-minute video, she showcased the specs, inclusions, features, and software of RAKK Talan Air.
"I love the specs and inclusions of RAKK Talan Air and its software. I was able to improve my accuracy and skills in playing other FPS games on PC," she shared to RAKK Gears.
She also hinted that more gaming content and gadget reviews are coming on her next YouTube vlogs.
Great year ahead of her
Salades started 2022 with great achievements. "I am really grateful to all my followers and I want to give back through simple prizes and tournaments where I can connect with them more," Salades gratefully said.
Last Valentine's Day, Salades organized two gaming events on her Facebook page. A 2v2 competition against 20 pairs of players among her followers, and whoever wins against her would win in-game credits. The second game was a two-round Battle Royale tournament, in which the last team standing is the winner.
She also joined a training group for aspiring streamers and content creators. This year, she was already recognized twice as Most Valuable Player (MVP) in the COD-M competitions of her training academy.
Currently, Salades has built over 6,000 followers on her Facebook page, over thousands of views per live stream, and over 300 shares when she streams her gameplays. A community of Call of Duty fans, enthusiasts, and players was also built on her Facebook page and became active viewers of her gaming content.
When asked about her dreams, she said that she likes to grow her followers and viewers, as well as to reach more people. 
In one of her Facebook videos, she shared her visions: "I am really passionate with gaming and streaming so I want to improve myself, so I can create more content that my viewers can enjoy. I would like to inspire my fellow streamers and content creators."
As a parting message, she said, "Thank you so much to all the people who always support my stream, as well as my new supporters. And I would like to give appreciation to my fellow streamers who promoted my page. I love you all!"
If you want to watch Salades on her live streams, you can follow her on Facebook page at https://www.facebook.com/saladeswaldes, her TikTok account @saladeswaldes, or you can subscribe to her YouTube Channel by clicking HERE.