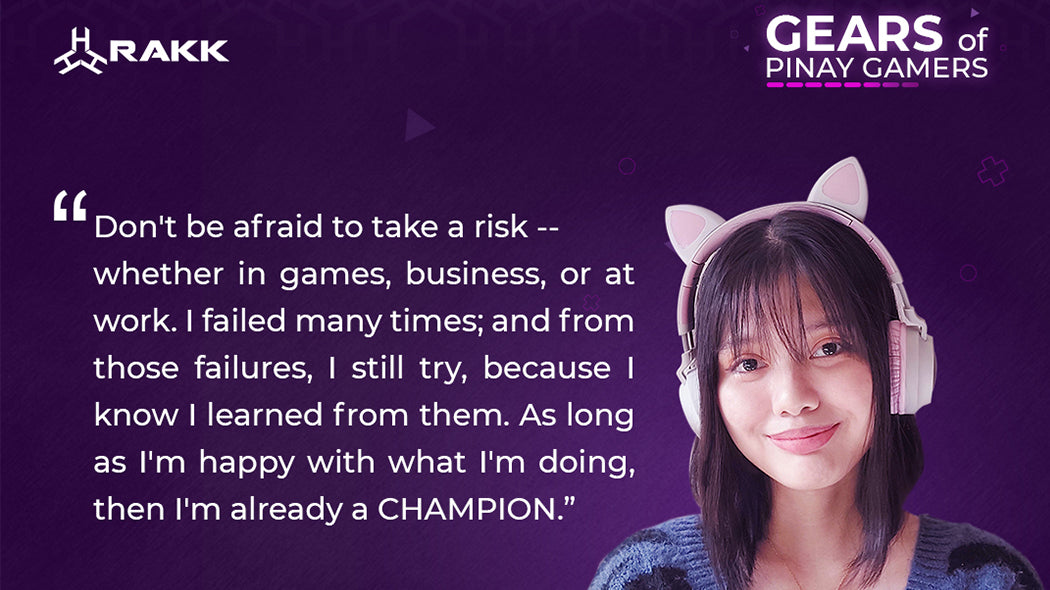 Christine: A Pinay RAKK Gear User, Dreamer, Gamer, and Risk-Taker
To be great is not walk in the park. But our Pinay RAKK Gear user Christine Rivera has made it look easy. She shared her struggles to juggle work, business, and her favorite leisure time – gaming.
"I've been using RAKK Gears since 2017. I've used them for work, playing games, and my artisan keycap business," Christine explained.
Our 24-year-old Pinay RAKK Gear user learned about RAKK Gears through her boyfriend for 11 years, a big fan of this brand. "I had my first personal RAKK Gears item when my boyfriend gave me a RAKK Daguob Headset Red as a gift," she added.
A Hardworking Pinay
Christine is a graphic artist and website designer for six years. She mentioned that their company is using RAKK ALO Gaming Chair.
Currently, this graphic artist is working from home. She spends eight hours designing various marketing materials such as social media banners, videos, email templates, and mock-ups for websites. "Our company's rule is to finish all them within a specific timeline, and I can say that I beat all the deadlines," she said.
She proudly said that she's using RAKK Lam-Ang Pro Wireless Gaming Keyboard and RAKK Talan Wireless Gaming Mouse as her gears to finish her tasks. "Aside from making them my everyday buddy, I find luxury in using wireless PC peripherals. I can use these wireless gears comfortably since it is gaming-grade equipment," Christine happily shared.
A Gamer for Fun
"I was introduced to the world of gaming when I had my RAKK Lam-Ang Pro. After buying it, I started playing without worrying about my laptop's keyboard," she said. Christine plays online games like Valorant and Call of Duty and various offline games like Tekken. She usually enjoys this bonding activity with her boyfriend and friends.
This First-Person Shooter (FPS) gamer mentioned that she started playing FPS games with a brand-less wireless mouse. The mouse's sensitivity and accuracy are the problems she encountered. That's why when RAKK Talan was released, she immediately purchased it to solve her gaming problems.
"RAKK Talan is lighter and smaller, which is more appropriate for my hands. In games, I can adjust the sensitivity and can customize it to make my gameplay smoother," she said, adding that it has a longer battery lifespan compared to her brand-less mouse.
Christine proudly said she now has "Ace" in FPS games. "I must say that I improved a lot due to continuous practicing, but I cannot take away the credit that RAKK Gears items helped me to be great in games."
When asked if she had plans to compete in tournaments, she dismissed the idea, despite her friends asking her to join their team. "Unlike other people, they focus their time and effort more on gaming. But for me, I only want to enjoy the moment with my friends," Christine added.
A Risk-Taker in Business
Christine says that she is a risk-taker when it comes to business. She started to sell watercolor stuff and clothing, but these businesses failed due to a lack of focus. Now, she owns Starry Crafts, which sells cute and artisan keycaps.
The Starry Crafts owner started it when she bought RAKK Lam-Ang Pro. She redesigned it with simple pink keycaps. Various keycaps can fit well with the Lam-Ang Pro structure, making this wireless gaming keyboard the model for her keycaps business.
She told us that she got the inspiration from a keycap collector she found on Instagram. "I want to have those cute keycaps so I researched where I can buy or how I can make my keycaps," Christine said.
Upon researching, our 24-year-old entrepreneur started by designing keycaps with charms, and then she made keycaps with clays until she invested in buying equipment and materials to make resin keycaps.
"I did not expect that my business would boom – either for collectors or as gifts for their loved ones. But last December, I got plenty of orders and found the target market that I want to pursue," she proudly stated.
Starry Crafts sells keycaps with KPOP groups, anime, games, cartoons, animals, kawaii, and a lot more. This artisan keycap business is open for personalized and customized designs that collectors will surely love. Price starts at Php60 per keycap or Php200 per set of five.
As Christine is focused on her work, business, and finds time for games, her path towards success is not easy to achieve. But with the right amount of time management, hard work, and passion, there's no difficult road to walk on.
As a message to all Pinays, Christine said: "Do not be afraid to take a risk -- whether in games, business, or at work. I failed many times, but I still try, because I know I learned from them. As long as I'm happy, then I'm already a CHAMPION."